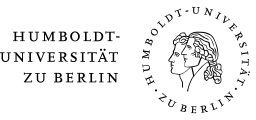 Welcome to the Law Faculty of the Humboldt-Universität zu Berlin!
Information on the current "Präsenznotbetrieb" of the Humboldt University
As of March 16, 2020, the Humboldt University canceled all face-to-face lectures and conferences and closed its libraries and computer pools. Since March 21, 2020, the university has been in "presence emergency mode": Its buildings will remain closed to all university members until further notice. Only governance structures, budget, personnel, technology and long-term experiments are supervised by "emergency teams". Since the beginning of May 2020, each office room can also be used by a maximum of one person per day, coordinated by the faculty administration. From May 25, 2020, the Zweigbibliothek Rechtswissenschaften offers a limited book rental service.
Additional information:
Current notices from the Faculty of Law