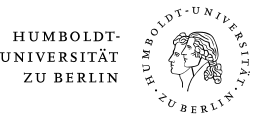 Claudia Kolarski, LL.M.
Researcher
Chair for Public Law and Comparative Law
Postal address
Humboldt-Universität zu Berlin
Juristische Fakultät
Öffentliches Recht und Rechtsvergleichung
10099 Berlin
Office
Altes Palais, Raum 419
Unter den Linden 9, Berlin-Mitte
Contact
claudia.kolarski@rewi.hu-berlin.de
Fields of Interest
public international law, post-colonial legal theory, law of international institutions, international relations
Short Bio
Since 5/ 2020: Researcher at the Chair for Public Law and Comparative Law, Humboldt-University Berlin
Studies:
2018/ 2019: LL.M. Human Rights (Birkbeck College, University of London)

2010 – 2017: Studies of Law at Free University Berlin and Humboldt-University Berlin; specialisation in 'Law of the International Community and European Integration'.
Studies abroad: 
2014: ERASMUS in Paris (École normale supérieure de Paris, ENS)
2013: Center for Transnational Legal Studies (CTLS) in London (King's College London in cooperation with Georgetown University Law Center, Washington D.C.)
Internships:
2019: Amnesty International Germany, Berlin, region: Africa (additional fields: human rights in the digital age, weapon export control and business and human rights) 
2014: German Consulate General, Cape Town, South Africa
2013: European Center for Constitutional and Human Rights (ECCHR), Berlin, field: international criminal law and international humanitarian law
2011: Human Rights Office, Cape Town, South Africa
Voluntary work:
Since 11/ 2019: country expert & human rights advocacy for South Africa, Eswatini and Madagascar, coordinator group 'Southern Africa', Amnesty International Germany 
Since 10/ 2019: counsel for refugees in asylum matters, Amnesty International Germany
2018/2019: project coordinator of the LITSEMBA-programme, Young Heroes (NGO) in cooperation with the Thomas-Engel-Foundation, Eswatini (Swaziland)
2012: project coordinator of the United Nations weekend seminar-series on the UN and human rights (University Group of the United Nations Association of Germany (DGVN)