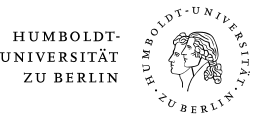 Humboldt Speeches on Europe
On 12 May 2000, German Foreign Minister Fischer held a seminal speech about European integration upon invitation of the Walter Hallstein Institute for European Constitutional Law. This speech was cheered all over Europe and beyond. It is generally connected to the place where it was held – the "Humboldt speech".
Following this event, a series of speeches where (former) heads of state and government talk about the future of European integration was established. It was opened by a speech of Helmut Schmidt on 8 November 2000 in the Auditorium Maximum of our University.
Initially, the Humboldt speeches were funded by the German National Foundation (Deutsche Nationalstiftung), later by Deutsche Post DHL. Since 2008, the series has been organized in cooperation with the representation of the European Commission in Germany. It has been supported by the Stiftung Mercator since 2014.
More information:
Anna Sting, LL.M.
Walter Hallstein-Institut für Europäisches Verfassungsrecht 
Unter den Linden 
10099 Berlin
Tel: +49 030 2093-3380
Fax: +49 030 2093-3449
e-mail: anna.sting@rewi.hu-berlin.de