Moira Fradinger on gender diversity and sexual identity in Argentina
Moira Fradinger discusses Argentina's ground-breaking legal reform of 2012 which de-pathologized gender identity and sexual diversity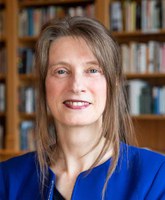 Moira Fradinger, associate professor of comparative literature at Yale University and fellow at The American Academy in Berlin, was supposed to speak on Citizenship, Inequality, and Vulnerability: The Case of Argentina as part of our lecture series Landscapes of Equality. Unfortunately, we had to cancel the event because of coronavirus.
We are, instead, now sharing this short video by our collaboration partner The American Academy in Berlin in which Moira discusses Argentina's ground-breaking legal reform of 2012 which de-pathologized gender identity and sexual diversity.
You can see the video via that link.