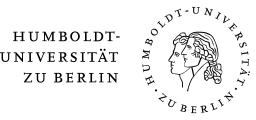 Welcome to the Law Faculty of the Humboldt-Universität zu Berlin!
Information on the current "Präsenznotbetrieb" of the Humboldt University
As of March 16, 2020, the Humboldt University canceled all face-to-face lectures and conferences and closed its libraries and computer pools. Since March 21, 2020, the university has been in "presence emergency mode": Its buildings will remain closed to all university members until further notice. Only governance structures, budget, personnel, technology and long-term experiments are supervised by "emergency teams".
Students of the Studiengang Rechtswissenschaften can obtain information on current exams in the news of the Examination Office. The Office for International Affairs informs master students about deadlines and current procedural changes on the homepage of the international section on this website. The Studieenbüro issues information and recommendations on technical support for online teaching and teamwork ("online lectures" or "digital collaboration") in cooperation with the service center for information and communication technology (SIK), which also provides information on computer work outside the university ("home office").
The Humboldt University also regularly publishes information about its measures to combat pandemics.