New Publication: Law of Administrative Organization of the EU. A Comparative Approach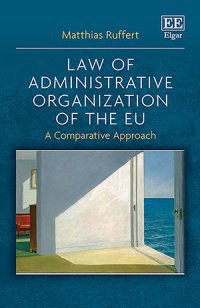 With the transfer of ever more tasks and competences to the European level the EU's administration has become increasingly complex, with 'agencification' as the most visible sign of this differentiation. This book offers a much-needed analytical overview of the field, with the aim of improving our understanding of administration at the European level, and indeed of improving the administration itself.

Importantly, the book takes a comparative approach, examining the parallels and differences to the US law of administrative organization – and demonstrates that it is not sufficient to consider the respective laws of particular Member States in isolation. Using this comparison as a vehicle, the book provides an accessible conceptualization of the law of administrative organization of the EU. This includes a reasoned proposal for a reformed Art. 298 TFEU to address deficiencies in the EU's administrative organization and to enhance administrative legitimacy in the EU.
You can find more information about the book here.