The Constitutional Court of Turkey – Das Verfassungsgericht der Republik Türkei. Book Launch mit E. Göztepe, S. v. Steinsdorff, M. Abad Andrade, F. Petersen; Kommentare: D. Grimm, C. Boulanger, E. Demir
What

DynamInt1

EPEDER

IRI L&amp

S

When

Feb 06, 2023

from 06:15 to 07:45
Where

Raum BE 2, E44/46, Unter den Linden 9 und Stream, Anmeldung: law-and-society@hu-berlin.de

iCal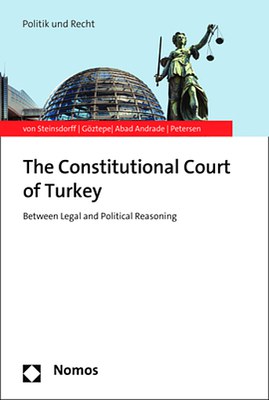 Die interdisziplinäre Studie porträtiert das türkische Verfassungsgericht, das sich seit 60 Jahren in einem von wiederholten Autokratisierungsschüben gekennzeichneten politischen System behauptet. Sie rekonstruiert seine unvollendete Institutionalisierung sowie wesentliche dogmatische Konfliktlinien und methodische Inkonsistenzen in den Urteilen. Die detaillierte Analyse und Dokumentation von fünfzig Schlüsselentscheidungen verdeutlicht den Einsatz des Gerichts für Rechtsstaat und Demokratie ebenso wie die eklatanten Brüche und Widersprüche in seinen Entscheidungen. Im Ergebnis liefert das Standardwerk konzeptionelle Erkenntnisse zur Rolle von Verfassungsgerichten in der Grauzone zwischen Demokratie und Autokratie weit über den türkischen Fall hinaus.
Autor:innen:
Prof. Dr. Ece Göztepe
Prof. Dr. Silvia von Steinsdorff

Dr. Maria Abad Andrade
Dr. Felix Petersen
Kommentare:
Prof Dr Dieter Grimm
Dr. Christian Boulanger
Dr. Esra Demir
The event is part of the LSI Berlin Book Launches.