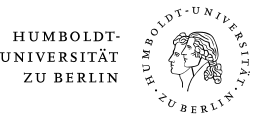 2018/2019 IDR LL.M. Introduction Week
The 2018/2019 academic year of the International Dispute Resolution (IDR) LL.M. at Humboldt University of Berlin has finally started. The new IDR LL.M. class of 2019 brought 27 lawyers from all around the world together. Are you interested to know what happened during the Introduction Week? Well, get ready!
The Introduction, or as we called it, the 'Intro' Week started on 8 October with an opening speech by the new Academic Coordinator of the program, Ms. Alicja Zielinska-Eisen. It was followed by a warm welcome by Prof. Dr. Gerhard Wagner, the Academic Director of the program, in which he took the new IDR LL.M. students on a trip through the German civil law legal system. Afterwards, the students enjoyed an Octoberfest-style dinner in a casual atmosphere.
On the second and third day, the students had a tour through the Law Faculty, during which they got familiar with the University buildings and they got to know the law library system. During these two days, our guests were: Mr Jörn Hombeck, LL.M. (Auckland), who is a Counsel with Hanefeld Rechtsanwälte in Hamburg and who introduced the DIS40 and gave a crash course on the legal instruments of the European Union and their impact on international dispute resolution; and Dr. Philipp Wagner, LL.M. (Emory), Partner with WAGNER Arbitration in Berlin. His presentation on 'why layers move to Berlin' was highly motivational.
In Berlin, there is more to see than the law library, so the students enjoyed the sightseeing tour of Berlin. Since during the IDR LL.M., there is an opportunity for an internship, there was a special class with Ms. Silke Elrifai, FCIArb, Counsel at Gnosis and Amereller, who refreshed our knowledge and provided useful tips on the preparation of a CV, cover letter and how to kick off the internship search process. In order to prepare even more for classes, there was also a presentation on the topic of international commercial arbitration. This was presented by Aaron de Jong, LL.B (Hons). Aaron himself is a graduate of the IDR LL.M. and it was great to meet someone who shares the experience.
A highlight of the Intro Week was a Q&A session with IDR LL.M. graduates: Müge Erdoğmuş (Class of '16), Claudia Pillosu (Class of '18), Dr. Ewelina Kragiel (Class of '18), Luiza Lins e Silva Dutra (Class of '17), Susan Siqueira Suzart Santos (Class of '18), Michael Ford (Class of '16), Altin Nitka (Class of '18) and Aaron de Jong (Class of '17). It was highly informative and enjoyable and, above all, the new students had the opportunity to make informal inquiries about the course and life in Berlin.
Now, the Introduction Week is over and an academic year filled with new challenges lies ahead.
If you want to know about next year's Introduction Week, become a part of our IDR LL.M. family and follow us.
Fatjona Hoti-Hajdini, IDR LL.M. Candidate