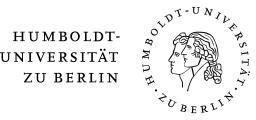 Events of the 2nd year
Graduation of the second year of the Humboldt Consumer Law Clinic
On 12 February 2014, the HCLC successfully completed its second year and celebrated the participants' farewell in a festive graduation ceremony. The teams presented the cases they had been working on during the year and received their certificates of attendance from the dean of the Law Faculty and the co-organizer of the HCLC, Prof. Dr. Reinhard Singer. We would like to thank all participants and their supervisors for a great second year!
In the second year, 14 dedicated students could advise consumers in 22 different cases free of charge.
(Group picture of the participants with their supervisors and Prof. Dr. Singer, Dean of the Law Faculty and Co-Organisator of the HCLC)
---
Humboldt Consumer Law Clinic at School: Study visity by a delegation of the Supreme Court of Kazakhstan
From 4 to 8 November 2013 a delegation of the Supreme Court of Kazakhstan visited Berlin for study purposes. The subject of the study visit was "The judicial decisions and practices in the field of consumer law". In the context of this visit, which was organized by the IZR (Deutsche Stiftung für Internationale Rechtliche Zusammenarbeit), the delegation visited the Federal Ministry of Justice, the Federal Ministry of Food and Agriculture, the Higher Regional Court of Berlin and, last but not least, the Humboldt Consumer Law Clinic. 
On 4 November 2013, the delegation, led by Mr Nikolai Mamontow (Judge at the Supreme Court of Kazakhstan) met with participants of the HCLC in the "Senatssaal" of the Humboldt-University to learn more about the work of the HCLC. The purpose of the visit was to attend a presentation of the work of the HCLC and to discuss consumer protection at the pre-court stage. While the presentation focused on the objectives, procedures and the legal bases for the client-counselling, two current participants and two alumni of the HCLC gave practical insights into the work of the HCLC by presenting, anonymously, cases they had worked on or were currently working on. The members of the delegation, accompanied by Mrs Svitlana Cherkas'ka (freelancer at the IZR), listened intently to the students' reports.
The presentation was followed by a discussion on the current level of consumer protection in Germany and Kazakhstan. As an expert of Kazakh consumer law, Mr Nikolai Mamontow was particularly interested in the situation in Germany in order to make comparisons with the situation in his home country. Everybody had an interesting and mutually beneficial experience, and the three hours of the delegation's stay passed by all too quickly.
(Group photo of the delegation of the Supreme Court of Kazakhstan with the representatives of the Humboldt Consumer Law Clinic)