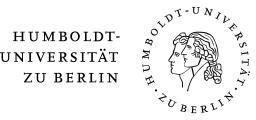 Events of the 3rd year
Farewell ceremony of the 3rd year of the HCLC and inauguration of the participants of the 4th year
On 29 April 2015 the participants of the 3rd year of the HCLC were bid a ceremonial farewell after the opening event of this year's lecture series "Consumer Law in Practice". The Vice-President of the Humboldt-University for Studies and International Affairs, Prof. Dr. Michael Kämper-van den Boogaart, handed out the certificates of participation to the advising teams. We want to thank the 13 participants and supervisors. With their help consumers were successfully advised in 23 cases free of charge. At the same time the participants of the 4th year were welcomed.
---
Chinese delegation visits the Humboldt Consumer Law Clinic 
On 20 June 2014, a Chinese delegation, led by Mr Liu Xiaobao, vice-president of the National Judges' College of the People's Republic of China, visited the HCLC to learn more about the concept and the functioning of law clinics in the field of consumer law. The meeting between members of the Chinese delegation and participants of the HCLC was a great success: By presenting (anonymously) cases they had worked on or were currently working on, the students demonstrated to the Chinese delegation their legal knowledge and related their experiences in the application of the law which they could gather from their participation in the HCLC.
The team of the HCLC would like to thank all presentation participants for the interesting discussions. We look forward to future visits of further delegations!
---
The Humboldt Consumer Law Clinic at the Long Night of Sciences ("Lange Nacht der Wissenschaften")
On 10 May 2014, the Long Night of Sciences took place at the Humboldt University, where the Humboldt Law Clinics presented their innovative teaching concept to interested visitors. Participants of the Humboldt Consumer Law Clinic and the Humboldt Law Clinic Internetrecht discussed cases of flight delays and defamation on the Internet. More information on the Humboldt Consumer Law Clinics was supplied by illustrative posters. We would like to thank all participants for their support regarding the organization of this event!