DynamInt in Digital Form
---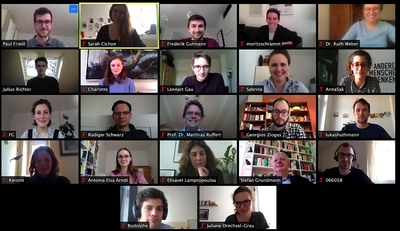 As a graduate programme investigating concepts of dynamic integration in European Law, we too must react dynamically to the current situation regarding COVID-19. The virus and measures taken to stop it from spreading have also not left the research community unscathed. Unfortunately, highly anticipated lectures, the ELS Summer School and other events organised by DynamInt either had to be cancelled or postponed. 
The current situation also presents new challenges for all members of the the programme. Thanks to the Faculty of Law's efforts to expand our digital resources, we are able to continue our work from our own homes, at the same time making sure to comply with the measures taken to stop the spread of COVID-19. 
Our weekly meetings now take place digitally via video conference. Every Monday, the spokesman and the other academic directors meet together with all members of the programme including postdocs, student assistants and our programme coordinators. During these meetings we discuss various legal topics, but above all, we present and discuss the current progress of our research.
In addition to our group meetings, smaller groups have formed in which joint projects and current legal topics such as the decisions of the Federal Constitutional Court on the "right to be forgotten" or Eurobonds in connection with COVID-19 are discussed. Furthermore, interdisciplinary seminars in a digital format are planned for the summer semester. 
We are very grateful that, despite the circumstances, we are able to continue working safely and are looking forward to hosting the postponed lectures and events in the foreseeable future.
Stay healthy!
Information about DynamInt's current activities can also be found on these social networks:
Current information regarding Coronavirus at Humboldt Universität